MUBYE Digital Caliper Micrometer Measuring Tool – Stainless Steel Electronic IP54 Waterproof Protection and Precision Fractional Measurements in SAE/Metric, 6 inch/150mm Vernier Caliper
MUBYE Digital Caliper Micrometer Measuring Tool – Stainless Steel Electronic IP54 Waterproof Protection and Precision Fractional Measurements in SAE/Metric, 6 inch/150mm Vernier Caliper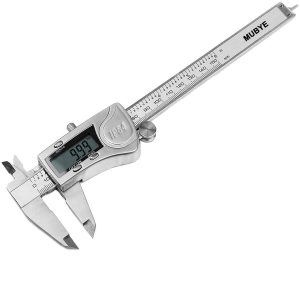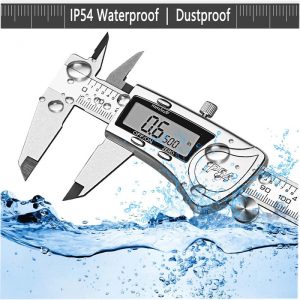 MANY DIGITAL CALIPERS CAN BE INACCURATE, arrive with dead or weak batteries or have a rough or sticky movement. Our all stainless steel caliper glides smoothly, with accuracy to within .0005 inch, .01 millimeter, 1/64." It has automatic on/off and the IP54 rating provides a great level of liquid and dust resistance. You can purchase it with confidence and your experience using it will be enjoyable and trouble-free.

WELL MADE ,DURABLE AND MULTIPURPOSE, the finely polished full metal stainless steel frame, knurled thumb roller and locking screw ensure smooth sliding and accurate positioning; That guarantees accurate measuring of outside diamerer, internal diameter, depth, step. Works well for woodworking jewelry and so on.

USER-FRIENDLY FUNCTIOS, the Digital Fractional Caliper 6″ with One touch button enables you easily switch three measuring modes: inch, millimeter, fractions as your need, and comes with a brand new 3V battery, plus, with its 5 minutes non-operation auto-off function, this will never arrive with dead or weak batteries.

EASY TO READ & USE, the high contrast large display whose size is 0.47″x1.22″ /12mm x 31mm is quite easy to read; IP54 Water resistant: Splash water, oil, dust resistant and auto on/off are convenient to use.

SUPERB CUSTOMER SERVICE is there to support you for any questions or problems. Electronic devices can sometimes fail but this one has a very low failure rate. MUBYE offers tips on usage and care. If failure or problems do occur, you're covered with a minimum 2-year warranty and hassle-free refund or replacement. We want to ensure the best experience for our customers.
Your best asset for fabrication work
You will find a pleasure in daily work when you have a precision tool to measure not only external dimensions, but also internal dimensions and depths. The MUBYE Digital Caliper is indispensable for ensuring that your material dimensions are always accurate. With it's great features of smooth gliding, thumb roller, lock screw, mm/inch/fractions switch, large & clear display, auto on/off, making it the best Digital Caliper in the market.
Designed for long-lasting durability
This quality-perfect Digital Caliper is made of strong hardened stainless still for resist corrosion, and ensuring that it will always glide smoothly and provide accurate positioning. With an IP54 grade,the Digital Caliper is perfectly safe from dust ingress and water spray from any direction. Forthermore, to protect your investment, our Digital Caliper comes with its own hard shell snap-lock storage case. This safeguards your caliper from impacts and drops, and allows you to store it safely and discreetly in your vehicle or tool cabinet.
Customer's experience is our top priority
We insist on the highest quality materials and manufacturing processes to bring you this superior Digital Vernier Caliper. That is why we confidently back our product with a 5-year Assurance! It's perfect time to order a precision caliper with FLAWLESS quality now!
In this decent package you'll get:
1 x Electronic Digital Caliper
1 x Sturdy Plastic Case
1 x 3V Extra Button Battery
1 x Mini Screwdriver
1 x Cleaning Cloth
1 x Instruction Manual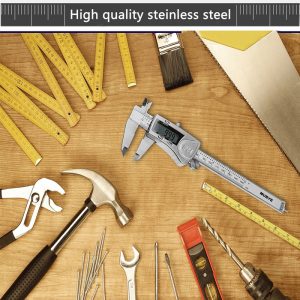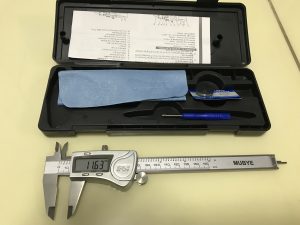 f you like the MUBYE Digital Caliper , Click "Buy from amazon.com" to buy now!