Egg Rings Round Cooking Mold, 4 Pack Food Grade Stainless Steel Eggs Ring Molds Anti-Scald Non Stick for Frying Egg McMuffin Sandwiches Pancake Omelet with Silicone Oil Brush (Orange)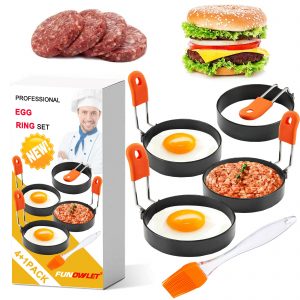 Food Grade Stainless Steel, Passed certification: The safe stainless steel egg mold is made of high-quality BPA-free material. It is non-rusting, non-deformable, environmentally friendly. With strictly tested, it is safe and effective.

Silicone Handle to Prevent Burns, Easy to Use: The extra rotective silicon covers on handle top to prevent your fingers from scalding. The cool silicone handle can be easily removed from the pot. Just apply oil to the pot and egg mold, lift the small handle, place it.

Multi-function, Enrich Your Breakfast: Our Stainless Steel Metal Egg Rings are ideal for making egg muffins, mini pancakes, fried eggs, poached eggs, breakfast sandwiches, hamburgers, biscuits, bacon, fruit, potatoes and crepes, omelets and more. Use your creativity to make delicious breakfast sandwiches or Hamburger for your family.

Easy to Clean, Dishwasher Safe: Due to the stainless steel metal material of the omelet, the metal pancake ring does not produce extra rubbish, so the pancake mold is easy to clean and can be quickly cleaned with a small amount of soap and water. Dishwashers also safe. Our efforts behind it are only for you to enjoy food safely and easily without any worry.

Great Gift Choice, Everyone Will Loves It: Our package include: 4 pack egg rings, 1 pack silicone oil brush and 1 user guide. Wonderful as a Gift for friends and family anytime all the year! We have confidence in the quality of our products and give you great customer service.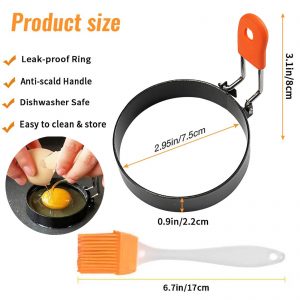 Product Features:
1. Made of high quality stainless steel, safe and tasteless, easy to clean, high temperature resistant, no fading, no rust.
2. Easy to clean, no sticking, high temperature resistance, no deformation, no discoloration, no rust. Egg Ring are safe for dishwashers.
3. Easy to use and the easy-to-grip handles can be folded down for compact storage and recycling.
4. Egg Ring can perfectly keep the round shape of the egg and make a rich breakfast.
5. Applicable people and places: students, office workers, families, old people, home, restaurants, etc.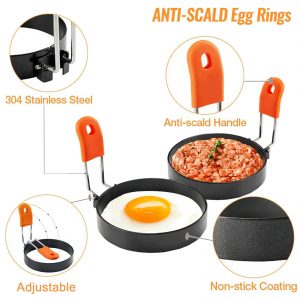 6. No need to assemble! Just open our products and start to cook some delicious dishes!
INSTRUCTIONS TO USE:
1. Wash and dry the pan, put the boiled egg ring on it, then pour the appropriate oil and preheat
2. Use an oil brush on the ring to prevent the eggs from sticking to the wall
3. Add cracked egg to break the yolk, please pay attention to avoid the egg splashing
4. After frying for a while, wait for the eggs to form, then lift the handle and enjoy delicious food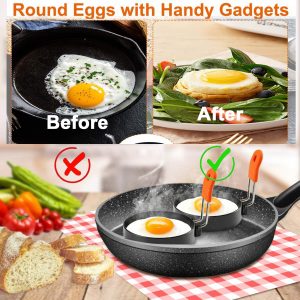 Package:
4 x Egg Rings
1 x Oil Brush
1 x User Guide
FunOwlet Egg Ring is best for making hamburger patties, egg muffins, mini pancakes, omelettes, poached eggs, breakfast sandwiches, etc. Just enjoy a hearty meal and a warm family cooking atmosphere with it!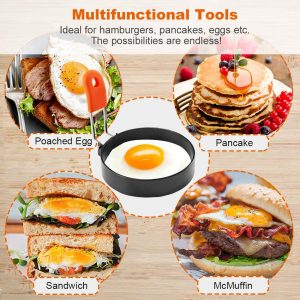 If you like the egg rings, Click "Buy from amazon.com" to buy now!