Fireproof Waterproof Money Document Bag – 3 Pack Safe Upgraded Zipper Bags, Fire & Water Resistant Storage Organizer Pouch for A4 A5 Documents Holder,File,Cash,Jewelry,Passport,Tablet,Laptop (Gray)
3 DIFFERENT SIZE FOR DIVERSE DEMAND: The set includes 15 x 11 inches fireproof document bag, 10 x 7.8 inches fire proof envelope bag and 8 x 5 inches small fire proof wallet bag . Large capacity & widely used, they can store all valuables include bank deposit,legal documents,cash,coin,credit cards,letters,precious photos,marriage certificate,passport and so on.

FIRE & WATER RESISTANT: Fireproof document pouches are made of high quality non-itchy silicone coated fiberglass which stands up the temperature up to 2000℉. It will protect your documents and valuables from the damage in case of fire. Fireproof bag for money is not only fire resistant but also high water resistant in case it gets wet for any reason.

NEW UPGRADE DESIGN: Zipper closure protection – 100% High quality fireproof & waterproof zipper adds storage security and carrying safety. One piece construction no bottom seam makes our money bags super strong and dependale. Dual layers design that will be more protection prevent and convenient storage.The zipper with strap design, more smooth to use and carry.

WHY CHOOSE THE REAL FIREPROOF & WATERPROOF BAGS: Safe document storage designed to protect valuable items from fire, rainwater, or poorly functioning lithium battery packs. This fireproof document bags can keep your valuable items safe even at unforeseen fires.

BUY DURABLE FOLDER MONEY BAGS WITH CONFIDENCE: Ready to respond within a 24 hour time ,2 years after sales service.If you have any issue with our professional money document bag, please feel free to contact us, which ensures your utter and complete satisfaction. The best gift for your family and friend.
Specifications:
Color:Gray
Shape: Rectangle
Temperature resistance: 2000℉
Material: Silicone coated fiberglass fabric + fiberglass
Size:
—Large fireproof document bag size: 15 x 11 inches
—Medium fireproof envelope bag size: 10 x 7.8 inches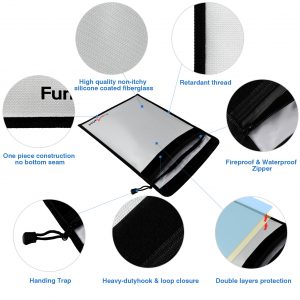 —Small fireproof wallet bag size: 8 x 5 inches
Weight:
—Large fireproof document bag weight: 6.45 oz
—Medium fireproof envelope bag weight: 3.35 oz
—Small fireproof wallet bag weight: 1.87 oz
Application: Money Cash/Document Fireproof Bag, Fire Resistant Pouch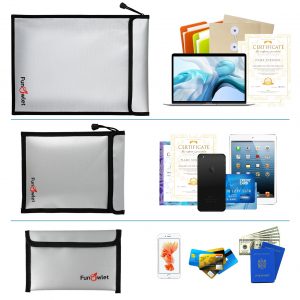 Features:
Protect your valuables from fire damage or rainwater.
Multipurpose and durable.
Large capacity to hold valuables.
Non-itchy silicone coating
Portable and easy to use.
High quality and unique design.
Foldable, The perfect design is easy to bring lots of convenience.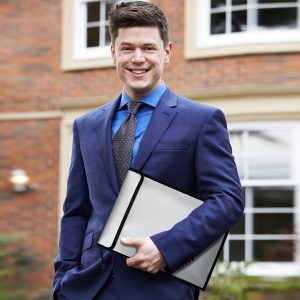 Kindly Notice:
1: Please keep away from little children.
2: Do not wash or immerse bag in liquid.
3: This is a high quality fire resistant pouch that will support high temperature and fire exposure, but as with any fire resistant object it will not support endless fire exposure so please do your best to keep any fire exposure to a minimum
If you like the fireproof document bags , Click "Buy from amazon.com" to buy now!