Powerful Cooking Propane Torch Lighter – Culinary Kitchen Torch, Sous Vide, Charcoal Lighters Campfire Starter, Flame Thrower Fire Grill Gun for Searing Steak, Creme Brulee, BBQ(Tank Not Included)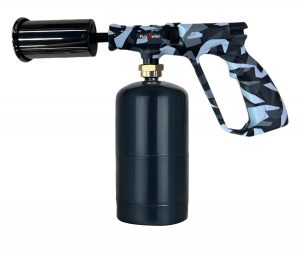 Note: FOR SAFE SHIPPING PROPANE GAS ISN'T INCLUDED
POWERFUL Cooking Torch With Piezoelectric Ignition: push-button piezoelectric ignition, easy operation and high safety. No need to light the flashlight with flame, just press the red button to light it.
Safe and Durable: Long angled nozzle and burn-free finger guard keep your hand safely away from the flame. We crafted our culinary torch out of professional-grade materials, providing you with a safe and easy-to-use tool.
High Intensity Heat & Easy to Use: FunOwlet kitchen grilling torch flame can be adjusted according to your need. An adjustable regulator affords to get an accurate flame intensity for a diversity of uses such as cooking, searing and much more. Flame temperature can reach up to 1800 °C/3272 °F. Depending on the size of the flame, so you can choose the different flame according to your requirement.
Wide Applications: The blow propane torch is perfect for sous-vide cooking, baking, grilling steak & bell peppers, caramelizing sugar atop creme brulee, melting cheese and toasting bread crumbs. It can also be used to light your charcoal grill, campfire, fireplace, welding, melting metal and anything else you can think of.
Barbecue Torch Quality Guarantee: FunOwlet is committed to provide the best quality kitchen products in the market and customer's satisfaction is our #1 priority. We trust and stand by our distinctive torch. This is why our blow torch is covered with NO Questions, NO Hassle Return for 90 Days and 1-year free service! The best gift for your family and friend! So, order now and consider getting our ever popular and safest torch for your family and friend too.
If you like the Propane Torch Lighter, Click "Add to Cart" to buy now!