Utility Canvas Zipper Tool Bag – Heavy Duty Tools Pouch with Carabiner, Multi-Purpose Storage Organizer Clip on Tote Bags in Olive, Orange, Blue, Yellow, 4 Pack
GREAT QUALITY MATERIALS: Made with tough No. 16 canvas, dependable metal zippers and strong carabiner clip for added durability.

TOUGH, THOUGHTFUL DESIGN: The durable 16 oz canvas material is one piece, has reinforced double stitching and is built to last! The rugged heavy duty construction extends to the zippers, which glide freely without binding and will last as long as you do.

SPACIOUS DESIGN: Fit more stuff in every canvas zippered pouches thanks to the way the backs are designed. 12.5 x 7 inches size is also larger than competitor brands.

WELL MADE MULTI-PURPOSE BAGS: Designed for tools, but can be used as a canvas tool bag, banking bag, toiletry bag, organization bag, travel accessories bag, artist bag, brush bag, makeup bag, electronics bag, construction bag, zipper tool pouch, tool bag, etc.

EASY ORGANIZATION: Organize your stuff by color. Finally collect those small items that tend to get scattered all over your house or workshop. And remember what they are.

GRAB AND GO STORAGE: The sturdy carabiner lets you hang'em from your belt loop, backpack or easel. Secure them in a purse or briefcase.Our heavy duty bags are built to stand the test of time.The best gift for your family and friends!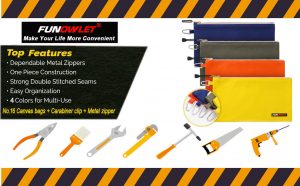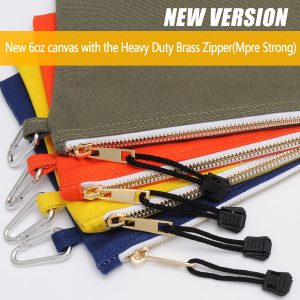 Organize your life! This value pack of sturdy canvas tool bag is perfect for sorting everything from tools and art supplies to electronics and cosmetics.
Does staying organized help you stay sane? Clear the clutter with this 4-pack of Multi Purpose Storage Bags! Made of heavy-duty canvas with reinforced stitching, these canvas tool bag are specially designed to hold more "stuff" than competitor brands. They won't tear, even when packed to the brim! And with 4 different shades, you can color-code items for easy identification. Imagine how much simpler life will be when you can instantly find everything you need for projects and repairs.
For tools, crafts, students, ladies, gents, anyone who needs tough, handsome organization.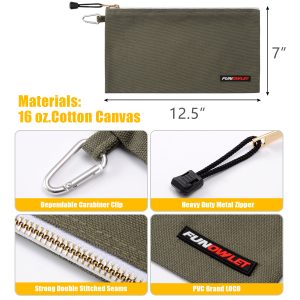 There is simply no end to their possibilities! The canvas tool bag is great for:
Wire nuts & other consumables

Pliers, wrenches & screwdrivers

Sewing & craft supplies

Stationery supplies

Plumbing, gardening, HVAC or carpentry tools

Coins & other collectibles

First aid supplies

IT accessories (chargers, earphones, etc.)

Computer technician tools

Car, bicycle & motorcycle repair tools

Hair stylist or barber tools

Cosmetics & beauty products

Travel items (passports, etc.)

Each 4-pack canvas tool bag includes Olive, Orange, Blue & Yellow bags. We never swap them out—so no need to worry about any "surprises" when they arrive. What you see here is exactly what you get!